If you've had surgery or are undergoing rehab after treatment, don't forget to look after your mental health. Maintaining a positive outlook helps you stay healthier for longer and heal quicker. And a key way to do this is to enjoy music and socialize with a nurse or therapist whenever you can. Don't hide away or stop talkng completely, as that could be the road to depression and poor health.
We at Haym Salomon Home for Rehabilitation and Nursing in Brooklyn, NY, have adjusted our recreational activities in view of the current crisis. We still do things like bringing in musicians and arranging one-on-one activities, but we observe strict social distancing rules. Besides nursing care and rehab therapies, our staff understand the crucial importance of residents' emotional and mental health.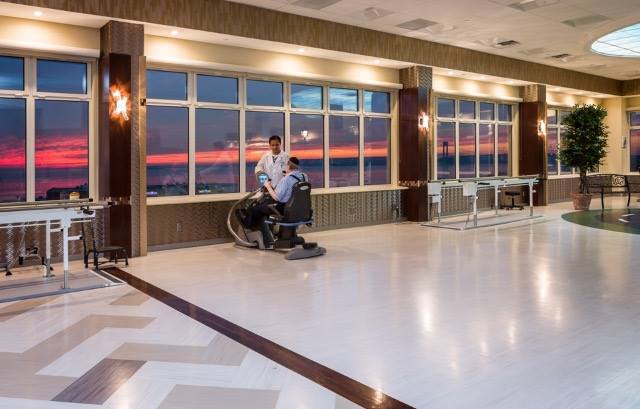 How Can Fun Improve Mental Health?
Talking, chatting, reminiscing, joking and having a laugh are great ways to dispel gloom, and relieve stress. Cultivate your happy hormones by taking part in enjoyable and fun activities, even if they are behind windows or at a great social distance. Make the most of life, don't be shy or afraid to make a fool of yourself.
The staff of our nursing home are there to support your physical, emotional, and mental well-being. We can help find enjoyable activities for you to take part. Whether it's a live music session behind the windows or at a good social distance, or great one-to-one rehab or fun activity, it's important for your mental health to enjoy yourself.
Healthy Mind – Healthy Body
Healthy, varied and interesting meals, especially in the company of others, are good for mind and body. Use the occasion to chat with a person who serves it, and have a laugh. Many activities of daily living can be made more fun when you keep communicating with friends or family.
One-to-one exercises can be a fun way to exercise and get to know your therapists better. Physical therapists, nursing and recreational staff as well as social workers are all aware of the important role they play in nurturing patients' mental health. We all are involved in providing emotional support to the residents.
What We Do For The Mental Health Of Our Residents
We do everything we can to keep everyone safe! But we also want to make sure that our residents are comfortable and in good spirits. Although our group activities have been postponed, we help people hook up with their families via phone or video. In addition, we arrange window visits by entertainers and musicians.
We get tips from family members on the kinds of things their loved ones enjoy. Rest assured that we treat our residents as family and always aim to bring a smile to their faces.
We are all united in this together. Our doctors, therapists, nurses, aides and social workers are all here to help you go through these difficult times and give you a psychological boost. We will continue doing our best to lift your spirits, which is crucial for the confidence and mental health of our patients.