Cardiac rehabilitation centers play an important part in the lives of patients who've had a heart attack. Heart failure or surgery can be a scary experience. You and your loved ones should get as much information as you can to find out what cardiac rehab involves. Cardiac rehabilitation won't turn back the clock in terms of your heart's health. However, it can make a positive difference to your mobility and life after a life-threatening cardiac event.
Haym Salomon Home for Rehabilitation and Nursing in Brooklyn has the experience and facilities to promote optimum recovery of patients who've had a heart attack. We accept private payments as well as most major insurances, including Medicare plans, Medicaid plans, Medicaid HMOs, Medicaid MLTC. We are a top cardiac rehab center and our welcoming staff will walk with you on your journey to recovery.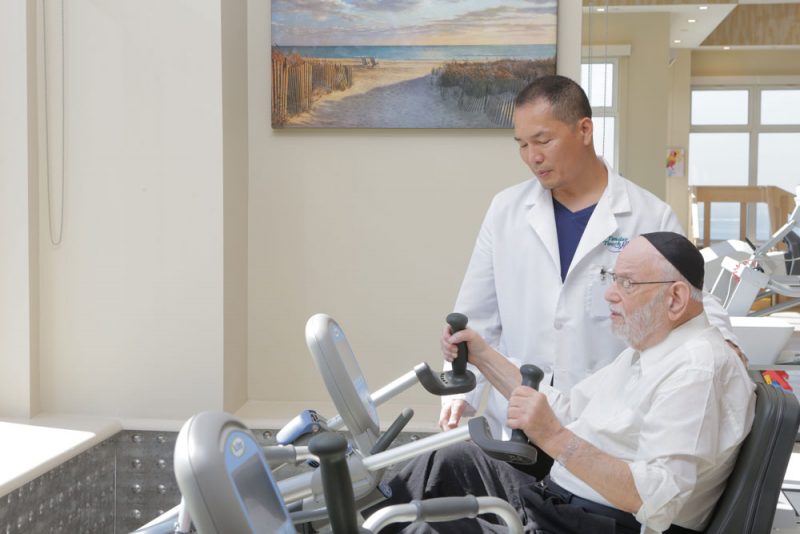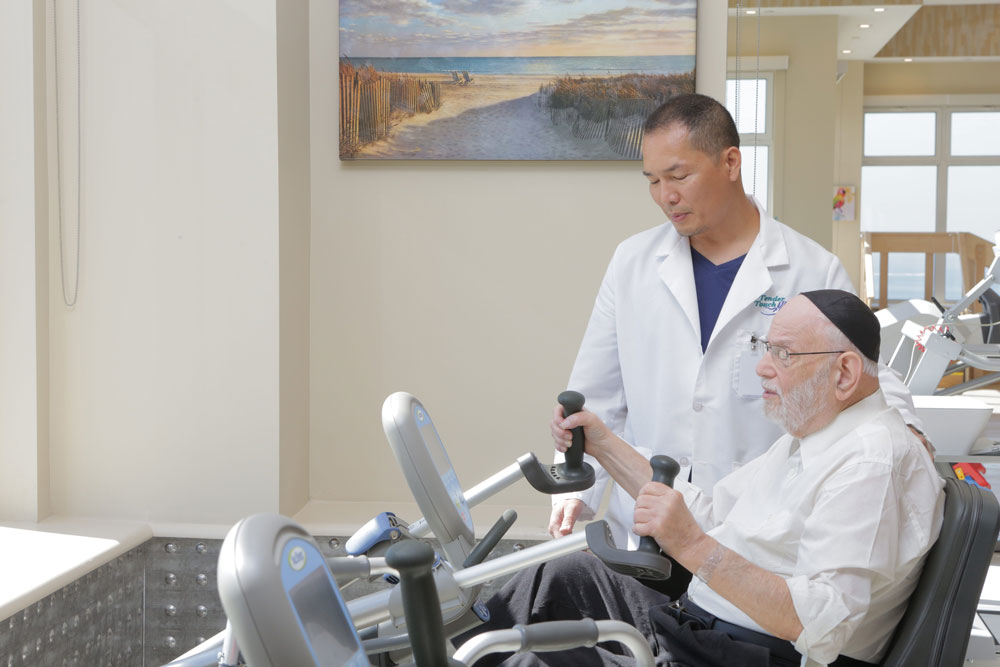 What therapies are done during cardiac rehab?
Cardiac care and rehab involves a program of treatment, exercise, education and emotional support. It's designed to help the patient function optimally following heart failure, angioplasty or other heart surgery. The aim is to improve your cardiovascular health. You will not be alone: cardiac rehab is a medically supervised program involving a team of specialists.
Exercise and physical therapy get your heart pumping and if properly supervised can be hugely beneficial. At the same time, rehab involves counseling, for example to help you become less stressed. Stress is a known causal factor of heart attacks.
Another key part of the work of cardiac rehab centers is to educate the patient on risk factors. For instance, it's important to quit smoking, have a healthy diet and monitor your weight.
Cardiac rehabilitation helps patients recover from chronic cardiovascular disease or after an acute cardiac event. It reduces mortality and morbidity and improves quality of life.
After referral by a cardiologist, patients go through several phases of rehabilitation at a cardiac center. Each phase includes counseling, emotional support and exercise.
What are the phases of cardiac rehab?
Just after heart surgery in hospital is where Phase 1 begins. The rehab team advise you on any physical activities you might do, and what you should avoid doing. They explain the signs and symptoms of a heart attack. Importantly, they also provide emotional support. Diaphragmatic breathing exercises are often recommended as well as walking in the room or hallway.
Phase 2 takes place either at home or in a cardiac rehabilitation center. This phase involves light exercises which are closely monitored by members of the rehab team. An important part of this phase is education about cardiovascular risk factors.
Phase 3 is a supervised maintenance program which may take place in a cardiac rehabilitation center. Your cardiologist or doctor will determine the length of time you remain in this phase. Once this phase is completed patients learn how to exercise at home. Equally, you can do these exercises as an outpatient at a cardiac rehab center.
Be aware that recovery after a heart attack can be quick or slow. Everything depends on the individual circumstances. You should consult your doctor to understand your progress and prognosis.
What kind of care is involved in cardiac rehabilitation centers?
Cardiac rehabilitation centers provide the professional care and emotional support to aid recovery. With their experience, they can give individual patients and their loved ones the tailored support they need.
Rehab center doctors, nurses, physical therapists and counselors provide sub-acute care for optimum comfort, well-being and mobility. You know that you will not be facing your heart problems alone. You will have the backing of a team, which will also consult closely with your family members.
Cardiac rehab care involves having a step-by-step recovery plan. It's important that the patient buys into this plan and takes an active part in it. For example, it's important to take your medicines correctly and do your recommended exercises. By participating fully in all phases of rehabilitation, you can boost your chances of returning to optimal health.
Is cardiac rehab necessary after a stent operation?
In heart surgery, stents are often inserted to treat blockages in coronary arteries. The operation is also known as coronary angioplasty. Cardiac rehabilitation has been shown to significantly reduce mortality rates for patients with stents.