Whether in a nursing home or a hospital, worried and sick patients need loving care and kindness. These aspects of care are pivotal and should never be overlooked. Compassionate care, alongside therapeutic and professional medical care, is a hallmark of the very best health institutions.
At Haym Salomon Home for Nursing & Rehabilitation in Brooklyn NY, patient-centered compassionate care is at the heart of what we do to aid recovery. We place particular value on emotional support and kindness. You are very welcome to make an appointment to come in and talk to us and our patients and see for yourself how we operate. You will also find out that we ensure the highest standards of cleanliness and hygiene and deliver quality treatments.
Let's take a look at what compassionate care entails and how it supports quality treatment and aids recovery.
Compassionate Care Helps Improve Results
The best health outcomes happen when medical personnel reach out to, and empathize with, their patients. Patients respond well to compassionate care and look to the people who are caring for them as guardian angles.
Empathizing means putting yourself in the shoes of your patients and seeing the world through their eyes. This makes it easier for medical staff to anticipate patient needs and desires, and greatly aids staff-patient communication.
Trust between patients and medical staff improves when staff pay attention to patient needs. This may be something as simple as asking how a patient is feeling, or if they are in pain.  Compassionate care implies honesty, openness, friendliness, confidence, and trust. These things combined are the bedrock of quality care and promote the healing process.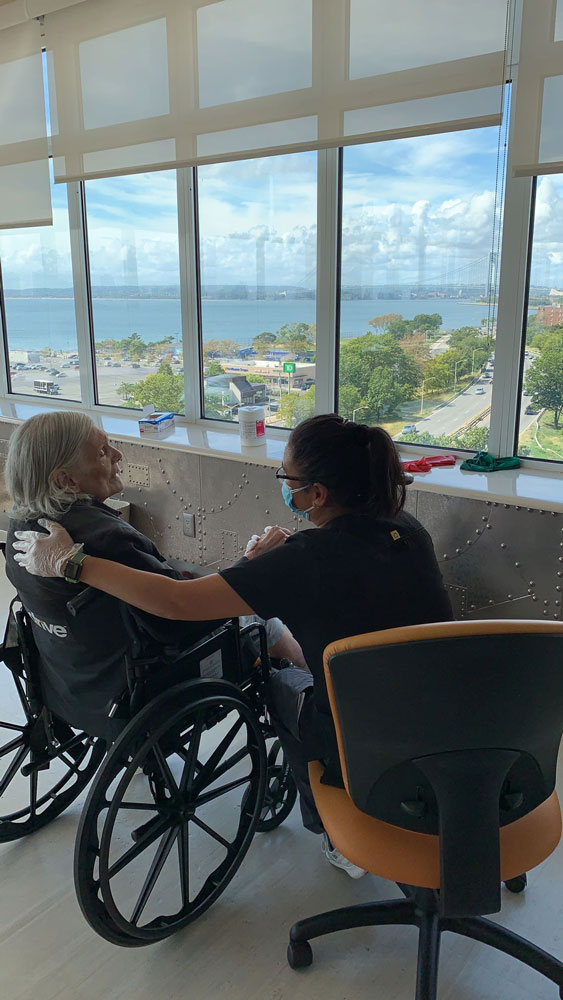 Emotional support and compassionate care are parts of the healing process
Therapists often develop close bonds and relationships with their patients while all the time maintaining their professionalism. A smile, a kind word, a squeeze of the hand, make all the difference to patients. What patients need most when recovering from surgery or some other ailment is strong emotional support.
Research indicates that when patients feel valued and loved they respond better to treatment. That's why medical professionals are trained to pay great attention to how patients are feeling emotionally. A gentle and sensitive approach, as part of compassionate care, can put patients at their ease and help them relax. Being able to relax in the sure knowledge that you are being well looked after is key to quality care.
Patients are in constant contact with hospital or nursing home staff, whether it's cleaners, cooks, nurses, therapists or doctors. During the healing process, patients rely on social interactions with these people. If these interactions are positive and friendly, patients pick up this vibe and feel more at ease.
If you would like to know more about services and therapies at Haym Salomon Home, feel free to contact us at (718) 373-1700 or walk in to talk to us. We are here is answer any questions you may have. If you have any concerns about insurance and billing, please don't hesitate to call us.